e-Mobility Eco-system

The EV market has many important actors: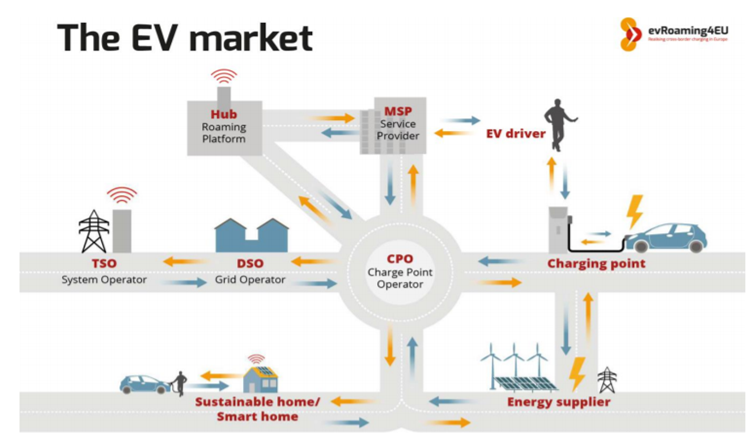 EV market actors
The GreenFlux platform builds features for 2 of these actors: the CPO and the eMSP.

CPO: Charge Point Operator. Operates, maintains and sometimes owns the infrastructure and/or land.

eMSP: e-Mobility Service Provider. Provides services to drivers, like access to charge stations and monthly invoicing, as well as management services for fleets.

e-Mobility Transactions

Broadly speaking, there are 2 ways a driver can pay for a session:
Directly to the CPO (generally using a credit card), also known as Ad Hoc payment


Via an eMSP
When paying Ad Hoc, a Payment Service Provider, or PSP, facilitates the transfer of funds between driver and CPO, adding some fee ontop of the CPO's base price.

Ad Hoc transaction
When paying via eMSP
, there are actually 2 transactions occurring:
A retail (B2C) transaction between Driver and eMSP. This is usually done either with a "cost plus" model (e.g. CPO fee + 5%), or a flat fee model (40 cents/ kWh).
A wholesale (B2B) transaction between eMSP and CPO. When the CPO

and eMSP are different parties, this is a roaming transaction.
The CPO and eMSP can be the same party; in this case, it is a non-roaming transaction, though in the GreenFlux platform it is still split as Retail and Wholesale for consistency.

Roaming transaction
There is a 3rd type of transaction, specific to CPOs: Reimbursement. When the CPO does not own the energy contract for a charger, they need to be able to calculate how much must be reimbursed to the contract owner. There are 2 primary use cases:
The CPO operates a charger at a business location. The CPO charges drivers/eMSPs X cents/ kWh. The CPO must reimburse the landlord Y cents per kWh for the electricity.
The CPO installs home chargers for fleet drivers. The fleet manager must reimburse their employee Y cents/kWh for the electricity consumed and add it onto their paycheck.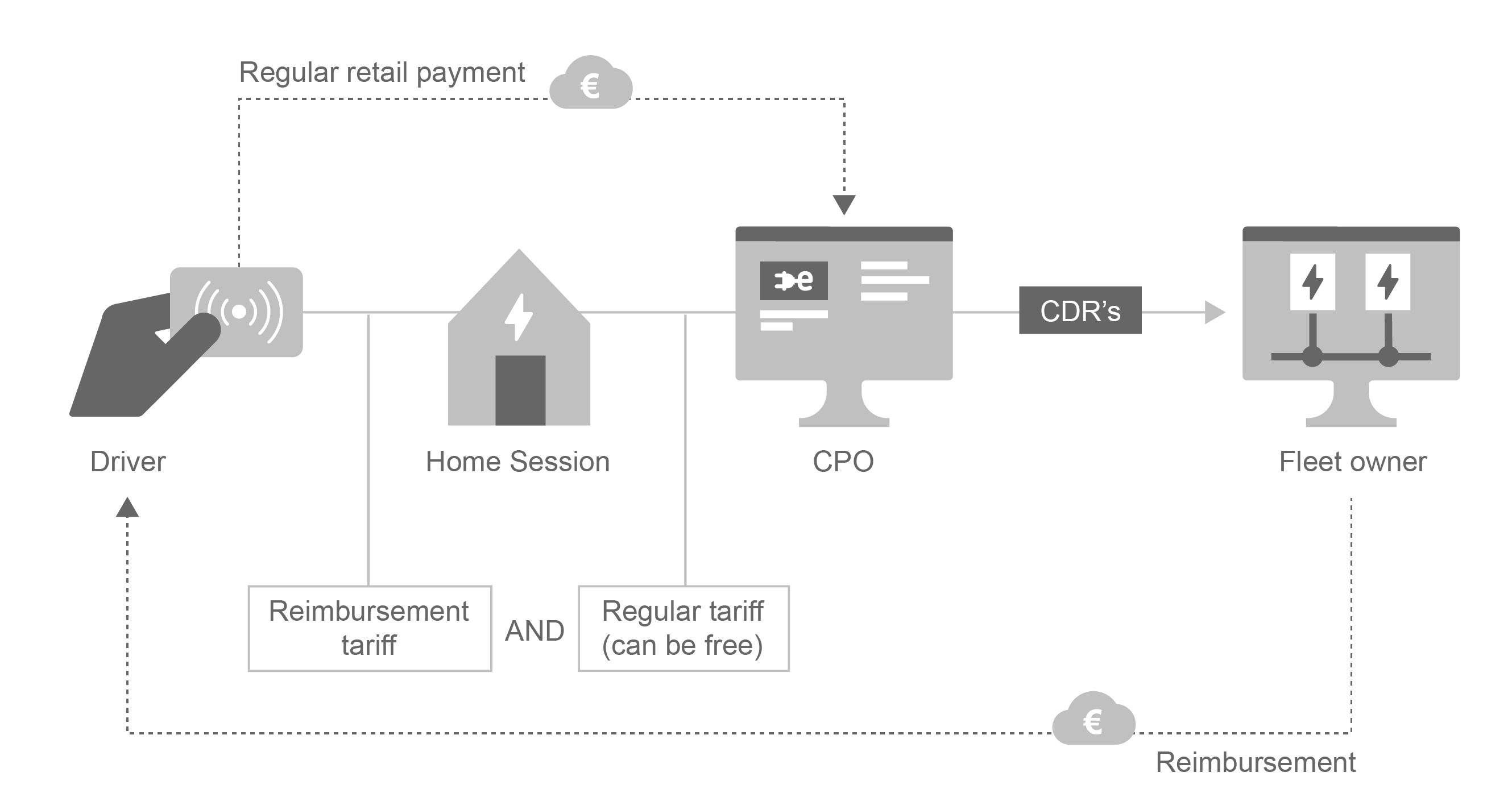 Fleet reimbursement transaction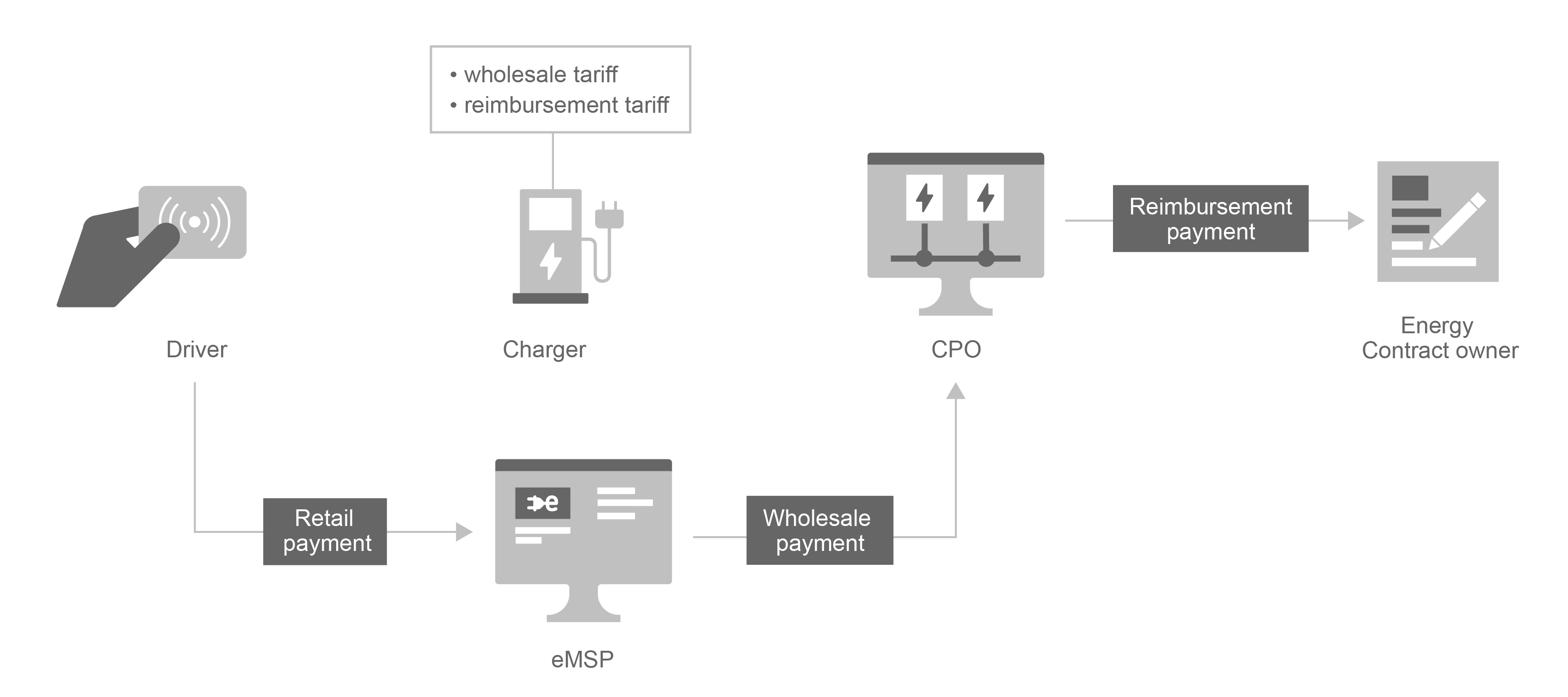 Energy contract holder reimbursement transaction